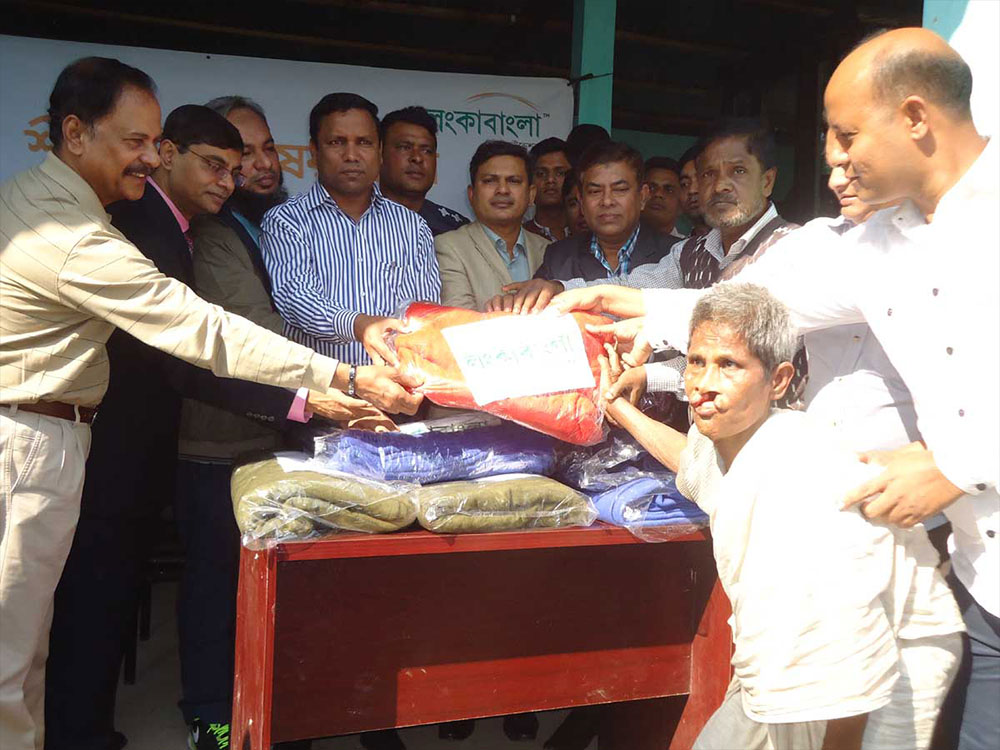 LankaBangla Foundation of LankaBangla Finance Limited undertook blanket distribution program among extreme helpless poor people of Kurigram district on 28 November 2016. A total of 2,500 blankets were distributed among ultra-poor people of Ulipur Upazila of Kurigram district.
Senior Vice President & Chief Risk Officer of LankaBangla Finance Limited, Mr. Mohammed Kamrul Hasan, FCA and Honourable Mayor of Ulipur Pouroshova, Ulipur, Kurigram Mr. Tariq Abul Ala in presence of Mr. Muhammad Shafiqul Islam, UNO; Mr. Haider Ali Mia, Upazila Chairman Ulipur and Mr. S. K. Abdullah Al Syed, Officer-in-Charge, Ulipur Police Station and Mr. Md. Jahangir Hossain, Head of ADC of LankaBangla distributed blankets among poor people in a small ceremony.
Mr. Muhammad Shafiqul Islam, UNO, Ulipur has expressed his gratitude to LankaBangla for coming to his remote area and giving blankets to ultra poor people of the area.
LankaBangla undertakes blanket distribution program every year as part of its Corporate Social Responsibility (CSR) activities. This year the distribution took place at Kurigram with focus the need of distressed people during this winter.
Chief Risk Officer of LankaBangla as Special Guest of the blanket distribution program expressed his feelings of being part of this good cause on behalf of Lankabangla. He underlined that it was the perfect timing of distributing blankets among poor people just at the beginning of winter season. The ultimate objective is to reduce day to day suffering of poor segment of the society during this winter in particular people in and around northern zone of the country.
On this program, the Chief Guest Mr. Mohammed Tariq Abul Ala, Mayor, Ulipur Pouroshova, Kurigram district welcomed LankaBangla for undertaking such a noble initiative and thanked for selecting his area for distributing blankets. He again thanked LankaBangla and the management of LankaBangla for choosing the right place in right time to help the distress people of the area. Pouroshova officials extended voluntary support to list down and smooth and proper distribution of blankets to really needy people of the area.
Nevertheless, Ulipur Pouroshova Mayor has also contributed substantial quantity of blankets from his own with this distribution.
Most of the journalist of local media and some national dailies as well as TV channels covered the occasion in full.