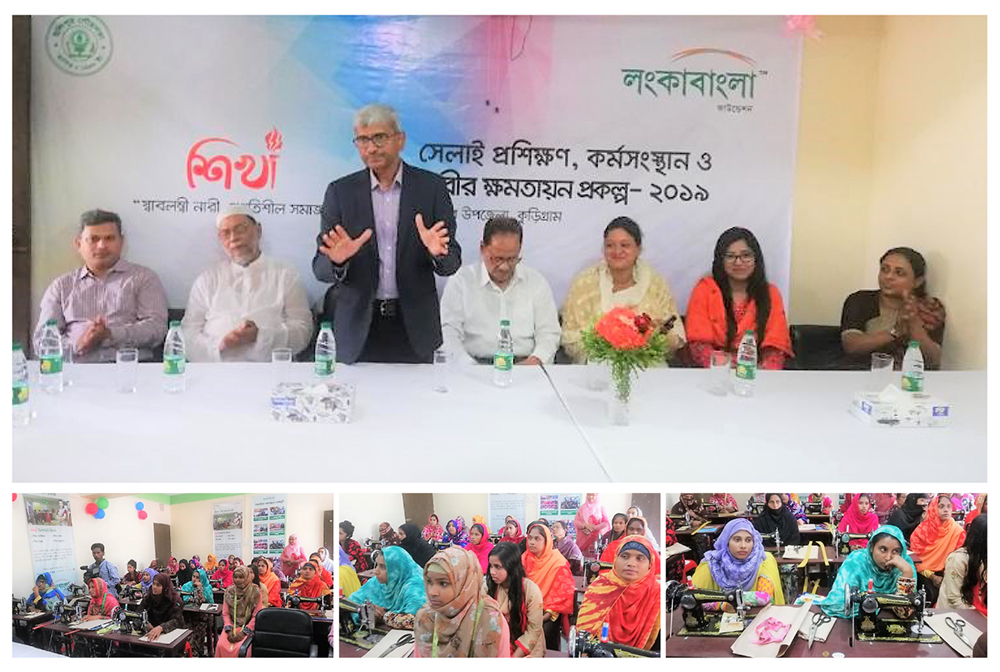 LB Foundation as part of its CSR activities inaugurate "Shikha Tailoring Training, Job Placement and Women Empowerment Project 2019" at Kurigram on 07 October 2019. Under this project 30 distressed women from different areas of Kurigram will receive 03 months long tailoring training, daily stipend on attendance, job opportunity and a sewing machine on successful completion of the training.
LankaBangla Shikha Forum initiate, plan and arrange this Tailoring Training course with an objective to develop skill, scope for job placement and/or self-employment to empower backward women of the society.
The training session will continue 05 days in a week and daily 05 hours for 03 months. Each women will get BDT 100 as stipend on daily basis to meet their transportation and refreshment expenses. All successful trainees will get one sewing machine each at the end of the training program.
During the short Inaugural Ceremony of this Tailoring Training Project, Mr. Khwaja Shahriar, Managing Director & CEO, LankaBangla Fiance Ltd. underlined the importance of enhancing market oriented skill for backward rural women in particular tailoring skill with an opportunity to work at garments sector and/or to become self-employed with our provided sewing machines to every individual. Mr. Tarik Abul Ala, Mayor, Ulipur Pourashava expressed his gratitude to LankaBangla Foundation for extending support to develop skilled women workforce, create opportunity for employment. He also thanked LankaBangla for extending continuous support for Kurigram District from time to time.
Head of Legal Division and Member-Secretary of SHIKHA Forum, Ms. Umme Habiba Sharmin, First Assistant Vice President & Member of SHIKHA Forum Ms. Sharmin Sultana and Head of Alternative Delivery Channels (ADC) & LankaBangla Foundation, Mr. Md. Jahangir Hossain and other high officials from Ulipur Pourashava and respectable personalities of the area took part in the program.