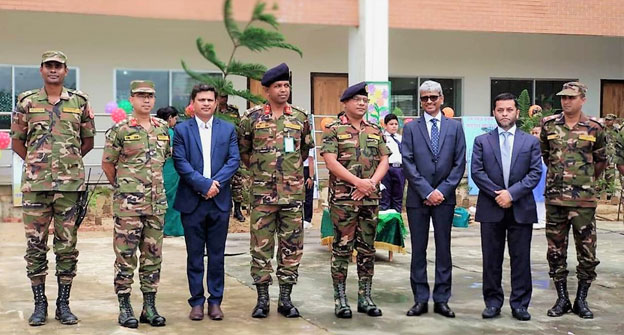 LankaBangla Foundation arranged a 'Tree Plantation Program' on 10th July, 2018 at Ramu Cantonment, Cox's Bazar. The main objective of this program is to enhance the production of fruits, environment protection, preventing soil erosion and area beautification etc. It is believed that it will be a sustainable and long term benefit for the proposed area. As a part of CSR activity, LB Foundation arranged this program and it is the 2nd phase of Tree Plantation at Ramu Cantonment, Ramu Upazila, Cox's Bazar. More than 3000 mango saplings has been planted around the location of BIR SHORONI road towards Ramu Cantonment Public School and College. Tree plantation also took place at the lake side road of the cantonment and supported by infantry Brigade. Focusing environmental protection, LankaBangla arranges the tree plantation program every year.
The program was inaugurated and accomplished by GOC and Area Commander, 10 Infantry Division, Maj Gen Mohammad Maksudur Rahman, psc; Commander 2 Infantry Brigade, Brig Gen Abu Syed Mohammod Bakir, psc of Ramu Cantonment; Mr. Mohammed Nasir Uddin Chowdhury, Managing Director, LankaBangla Securities Limited and Mr. Khwaja Shahriar, Managing Director & CEO, LankaBnagla Finance Limited jointly.
All necessary support and cooperation was provided by the concerned authority of Ramu Cantonment.