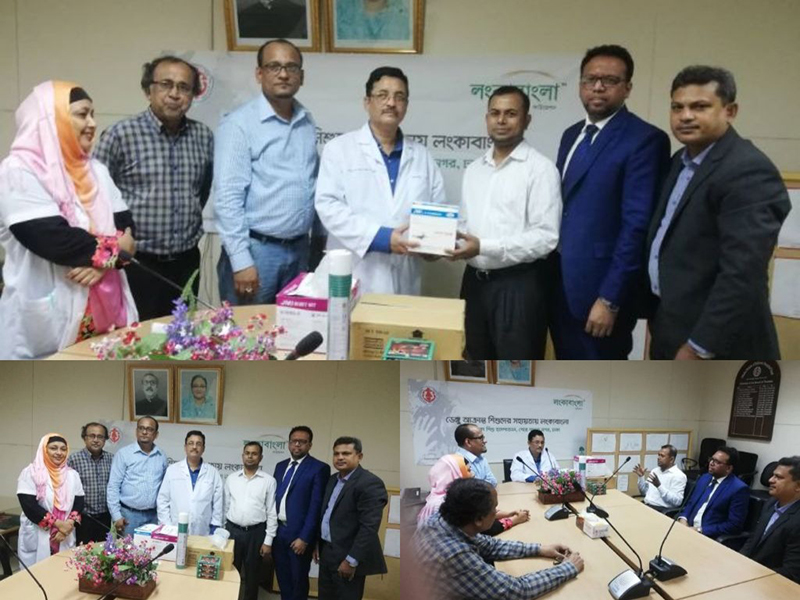 LankaBangla Foundation conducted a second phase of their support initiative to Dengue Affected children at Dhaka Shishu Hospital on 01 September 2019. The first phase was conducted on 08 August 2019 at Dhaka Shishu Hospital.
Dengue fever has spread across the country, especially within Dhaka City. The condition is worsening every day, and the outbreak of Dengue fever remains largely uncurbed. LankaBangla Foundation, as part of its CSR activities, decided to contribute toward the cause of combating the Dengue crisis in the country through extending direct support to Dhaka Shishu Hospital.
During this second phase of assistance, LankaBangla provided medical items such as various kinds of saline, dextrose injection, cannula, aerosol, and mosquito coil among others for the Dengue ward. This support was very much needed by the poor and destitute dengue-affected children admitted at Dhaka Shishu Hospital.
From LankaBangla Group Company Secretary, Mostafa Kamal, FCA; Head of SME, Md. Kamruzzaman Khan; and Head of Alternative Delivery Channels (ADC) & LankaBangla Foundation, Mr. Md. Jahangir Hossain handed over these items to the Director of Dhaka Shishu Hospital, Prof. Syed Shafi Ahmed. During the handover program doctors, nurses & other officials from Dhaka Shishu Hospital were also present.
LankaBangla promises to adhere to its commitment to social responsibility and continue similar assistance programs for Dengue and other crisis that may plague the community in the near future.