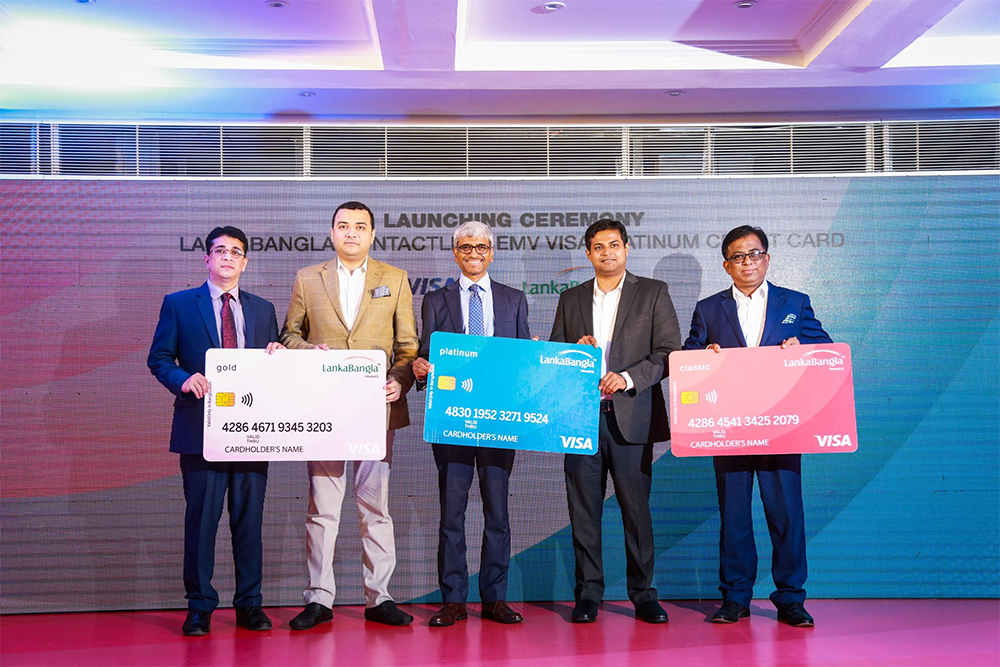 LankaBangla Finance Limited has launched their first-ever Contactless EMV-enabled LankaBangla VISA Platinum Credit Card in Bangladesh. The launching event took place in Hotel Sarina on September 17, 2019.
Contactless cards will allow customers to make payments by simply waving the card near the point of sales (POS) machine without the need to swipe or insert the card into the machine. The contactless card will provide customers with improved convenience as the speed of the transaction will be significantly faster and will offer increased protection from card fraud as it comes with EMV enabled chip and NFC (Near field communication) Technology.
To commemorate this milestone, LankaBangla Finance and VISA will be offering a range of exclusive benefits and discounts through VISA's wide network of over 1000 partner outlets nationwide which include exclusive offer like BOGO (Buy-1-Get-1) at renowned hotels in the city, exclusive discounts at dining and lifestyle. In addition, LankaBangla Finance will issue complimentary Contactless LankaBangla VISA Platinum Credit Card for the first year and will allow the cardholders to avail 100% waiver on the renewal fee by making only 12 transactions in a year.
Alongside this, the cardholders will be able to pay back later at 0% interest up to 36 ezpay installment facility with the ezpay program of LankaBangla at their partner outlets by using Contactless EMV-enabled LankaBangla VISA Credit Cards. On top of it, VISA Platinum Cardholders can get 3 complimentary access to Balaka Executive Lounge and unlimited complimentary 'Meet and Greet' service at Hazrat Shahjalal International Airport.
Regarding the launch, Khwaja Shahriar, Managing Director & CEO, LankaBangla Finance Limited, said, "We believe customers will adopt the contactless card as an alternative to cash that is both simple and secure. We are excited to offer our customers a new payment option that they can use at a growing number of merchants around Bangladesh. With this Latest contactless technology of VISA Card will ensure more secure transaction system for our customers. We believe, this endeavor, jointly initiated by LankaBangla and VISA will bring remarkable convenience for the valued cardholders with the transactional efficiency."
Alongwith the higher officials, the launching event were also attended by Soumya Basu, Director, Business Development, VISA South Asia; Poulomi Mukherjee, Associate Director, Business Development, VISA; Khurshed Alam, SEVP, Head of Retail Business, LankaBangla Finance Limited; Md. Minhaz Uddin, Head of Cards, LankaBangla Finance Limited and Kazi Saifuddin Munir, Managing Director & CEO, ITCL