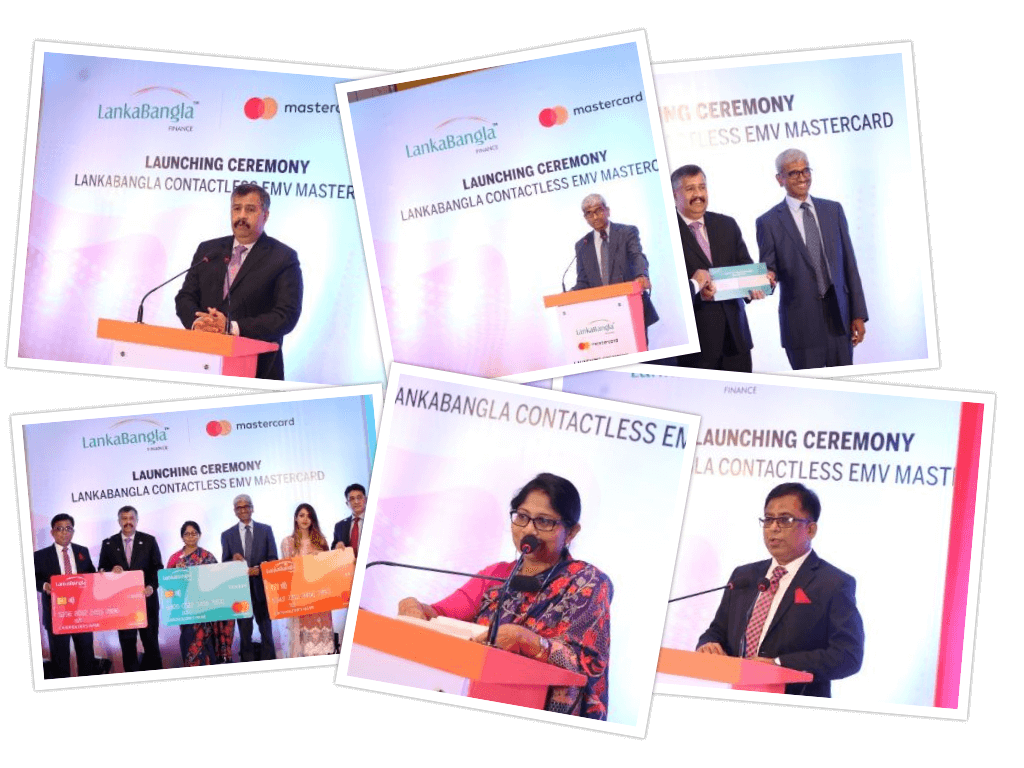 Dhaka, Bangladesh–September 03, 2019 – LankaBangla Finance in collaboration with Mastercard today announced the launch of their first ever Contactless EMV-enabled LankaBangla Mastercard Credit Cards (Classic, Gold & Titanium) in Bangladesh during a press briefing arranged at The Westin Dhaka Hotel. The launch strengthens Mastercard's commitment to helping drive the push beyond cash based payments in Bangladesh, to enable safer, faster and simpler payment system for the cardholders.
The contactless EMV-enabled LankaBangla Mastercard Credit Card will make the payment process faster & easier by allowing the cardholders to simply tap the card in front of a card reader or POS terminal to complete the transaction, thereby eliminating the need for swiping or inserting the card into the terminal. This contactless LankaBangla Mastercard Credit Card comes with more secured EMV enabled chip card & NFC (Near field communication) Technology, which will spontaneously communicate with the contactless payment terminals to exchange needed information and proceed with the transaction.
To commemorate this milestone, LankaBangla Finance and Mastercard will be offering a range of exclusive benefits & discounts through Mastercard's wide network of over 3000 partner outlets nationwide which include exclusive offers like BOGO (Buy-1-Get-1) at renowned hotels in the city, exclusive discounts at dining & lifestyle. In addition to this, LankaBangla Finance will issue complimentary Contactless LankaBangla Mastercard Titanium Credit Card for the first year and will allow the cardholders to avail 100% waiver on the renewal fee by making only 15 transactions in a year.
Alongside this, Cardholders will be able to pay back later at 0% interest up to 12 ezypay instalment facility with the ezypay program of LankaBangla at their partner outlets by using the Contactless EMV-enabled LankaBangla Mastercard Credit Cards. The additional benefits of the Contactless LankaBangla Mastercard Credit Cards will allow the cardholders to have the access to all Mastercard and VISA POS, ATMs and e-Commerce site nationwide, an exclusive credit shield insurance protection for unforeseen event & loyalty programs like, rewarding highest spender. This collaboration between LankaBangla Finance and Mastercard is anticipated to be the largest bill payment network in Bangladesh.
Khwaja Shahriar, Managing Director & CEO, LankaBangla Finance said, "LankaBangla Finance is proud to partner with Mastercard to bring the first ever Contactless EMV-enabled LankaBangla Mastercard Credit Card for its customers. With this Latest contactless technology of Mastercard will ensure more secure transaction system for our customers. We believe, this endeavor, jointly initiated by LankaBangla and Mastercard will bring remarkable convenience for the valued cardholders with the transactional efficiency."
Syed Mohammad Kamal, Country Manager, Bangladesh, Mastercard said, "This is an exciting moment for Mastercard to collaborate with LankaBangla Finance on the launch the Contactless EMV-enabled LankaBangla Mastercard Credit Card. The contactless technology will allow the cardholders to experience faster transaction, greater convenience and to avail a range of benefits & discounts at the partner outlets of both Mastercard & Lankabangla Finance. Mastercard believes, this partnership will accelerate its broader vision of helping the country move beyond cash based transaction."