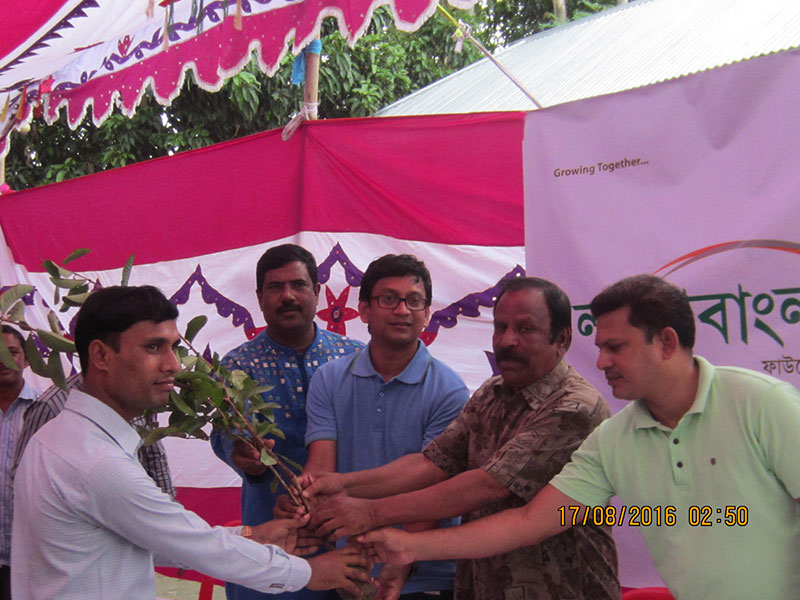 Another core area of CSR of LankaBangla Foundation is to extend support to protect environmental & ecological degradation through tree plantation every year. In 2016, Foundation undertook a tree plantation program during 16, 17 & 18 August 2016 at Shahzadpur Upazila, Sirajganj. In total 1,500 saplings of fruit-bearing, wood-trees & medicine-trees are planted at premises of different institutions and distributed among poor villagers of the Upazila. The plantation & distribution was supported by the local community voluntarily. The whole tree plantation program of 2016 costs 0.155 million.
Head of Human Resources of LankaBangla Finance Limited, Mr. Md. Shariful Islam Mridha and Chairman of Shahzadpur Upazila, Prof. Azad Rahman jointly opened tree plantation and distribution program in a simple ceremony.
LankaBangla undertakes tree plantation program every year as part of its environmental responsibility. This year our focus was on poverty alleviation and environmental protection through tree plantation. This time the plantation took place for 03 consecutive days.
High officials from LankaBangla Finance head office and Heads of Bogura branch attended the tree plantation & distribution program and also participated in the rally.
The program has ended by a rally to create awareness on tree plantation among the local citizens.