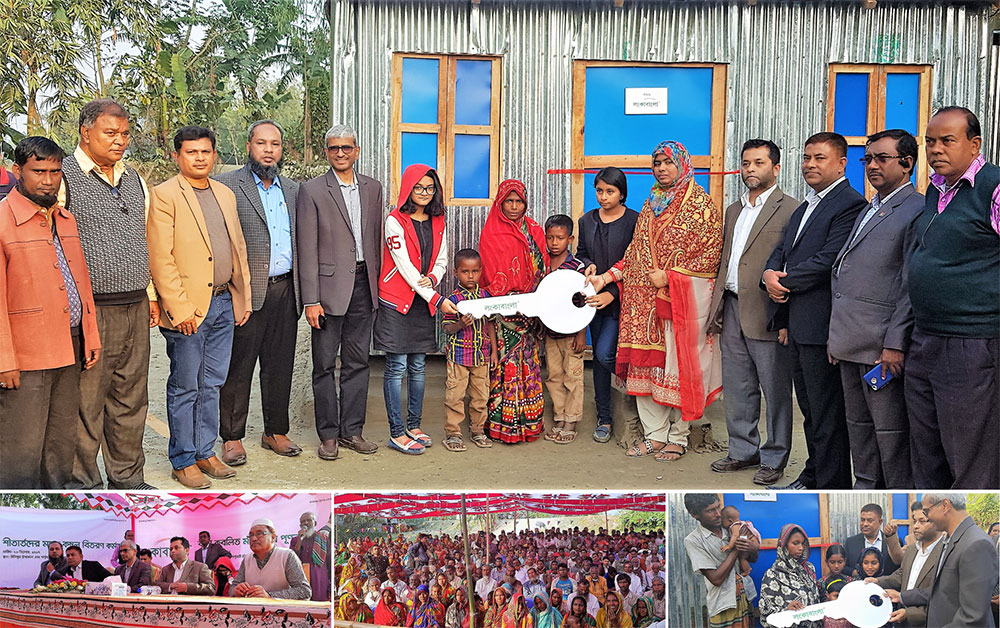 Employees of LankaBangla and LB Foundation of LankaBangla undertook a joint massive Rehabilitation Project for the worst affected flood victims of different remote islands (chars) of Kurigram district.
This massive LankaBangla Rehabilitation Project was planned just immediate after the flood this year (2017) when we witnessed the untold suffering of flood victims of different remote islands (char areas) while distributing relief goods in these chars at the end of July & beginning of August 2017.
All employees of LankaBangla Finance, LankaBangla Securities, LankaBangla Asset Management, LankaBangla Investment voluntarily contributed 02 million taka and LB Foundation contributed 01 million taka for the initiative of LankaBangla Rehabilitation Project in Kurigram.
The Rehabilitation Project includes a tin-shed house, a sanitary latrine, a tube well and some wood bearing trees for each family. We have completed and handed over 65 tin-shed houses, 65 sanitary latrines, erected and handed over 25 tube wells and planted more than 300 wood bearing trees (surrounding the 65 houses) among the flood victims. Under the leadership of Mayor of Ulipur Pouroshova, Ulipur, Kurigram Mr. Tariq Aul Ala and with the relentless hard work of his volunteer team during last 03 (three) months finally we have implemented the project successfully.
The volunteer team and LankaBangla visited remote islands (chars) of Kurigram district, identified & listed most affected vulnerable families, assessed their needs, arranged & transported materials for final execution of different components of the project and beat the challenges of doing this project in different distant remote islands (chars) of Kurigram district and happy to see the smile on the faces of homeless people.
Mr. Mohammed Nasir Uddin Chowdhury, Managing Director, LankaBangla Securities; Mr. Khwaja Shahriar, Managing Director, LankaBangla Finance; Executive Vice President & Chief Risk Officer of LankaBangla Finance Limited, Mr. Mohammed Kamrul Hasan, FCA and Honourable Mayor of Ulipur Pouroshova, Ulipur, Kurigram – Mr. Tariq Abul Ala in presence of Mr. Haider Ali Mia, Upazila Chairman, Ulipur, Bazra Union Parishad Chairman – Mr. Alhaz Rezaul Karim Amin, renowned social worker Mr. Star and Associate Professor Mr. Bulbul Ahmed and Mr. Md. Jahangir Hossain, Head of ADC of LankaBangla officially handed over houses, sanitary latrines, tube wells to each family on 26 December 2017 in a small ceremony.
Besides, we have also distributed 1,000 blankets among ultra-poor people of Ulipur Upazila of Kurigram district on the same day. Blankets are also given to the beneficiaries of the project.