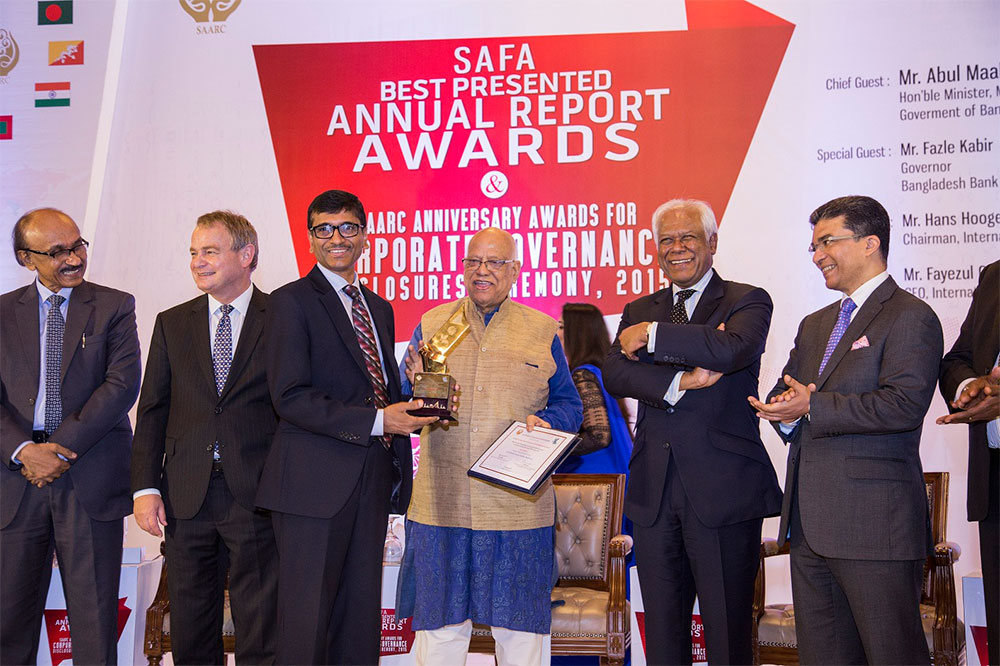 LankaBangla Finance Limited has won the SAFA BPA Award 2015 for Best Presented Annual Report under Financial Service Sector category. Winning the award for successive two years this accomplishment denotes transparency in financial reporting, fair presentation in Annual Reporting and excellence in corporate governance practices at every sphere of the company and is in essence a matter of honor for the enterprise. With this achievement, LankaBangla is poised to receive fresh impetus in delivering better operational results as well as convincing service quality. SAFA is an Apex Body of the South Asian Association for Regional Co-operation (SAARC) and an Acknowledged Accounting Grouping of International Federation of Accountants (IFAC).
The award has been distributed at a ceremony organized on 27th January at Pan Pacific Sonargaon Hotel, Dhaka. The Deputy Managing Director Mr. Khwaja Shahriar received the prestigious award from Honorable Finance Minister Abul Maal Abdul Muhith. The Governor of Bangladesh Bank Mr. Fazle Kabir, Chief Financial Officer Mr. Shamim Al Mamun, FCA and other MANCOM Members of LankaBangla Finance Limited also attended the impressive ceremony.
LankaBangla deems this success to be a collaborative effort put together by a host of partners, who have been instrumental in igniting competitive edge within the enterprise and acted as catalysts to arrive at the summit of success. LankaBangla Finance Limited expresses heartiest gratitude to all its customers, stakeholders, Board Members, Management Committee, Regulatory body, employees, clients, and vendors for their effective cooperation and relentless support in achieving this accolade.